Easy cooking recipes are basically the only way to go. Why would anyone want to spend hours of time and sweat equity in the kitchen to come up with the same dish and no better than what an easy cooking recipe would deliver. Now mind you, easy cooking recipes are not the equivalent of sub standard recipes. Or recipes that don't measure up or don't taste good.
No way! Easy cooking recipes are just that, easy. A lot of how the recipe turns out is the cook. If you are able to follow directions and you love cooking and you have some flare and enjoy ingredients, then they will turn out fantastic. That is exactly what this website is all about.
I love cooking. I love baking, I love experimenting with ingredients and coming up with my own slant on things while in the kitchen. But I really love easy cooking recipes because I have little time.
Like most of you dear readers, I am short on time. I have many demands on my day but the fact is I love to eat and so does my husband. And a fast trip to the fast food joint is not going to cut it at our house. So after playing with the recipes and food ingredients I have mastered being able to manage my time and be able to cook enjoyable dishes.
So if you also enjoy being in the kitchen but don't have all the time you would like, you might benefit from my efforts. I have some of my own recipes I hope to share with you, and I have been looking around the web finding great ideas and putting my own spin on them. I'll share those too.
Easy cooking recipes are not a cop out. They are a life style. I hope you will enjoy them.
Monkeys in the Family? They Are Going To Love This Homemade Banana Recipe
Make all the monkeys in your family happy with this homemade banana pudding recipe. A great tasting dessert or anytime snack, this Homemade Banana Pudding Recipe is easy to make and easier to eat.
I've eaten banana pudding since I was a child. My Mom made the best pudding ever. Banana pudding was just one of the great recipes of my memory. I was really crazy about bananas when I was little too. In fact even today it is one of my favorite fruits. So it is only a natural progression to write about a pudding recipe that I really love, I even like making it almost as much as eating it.
I really hope you will give this delicious homemade banana pudding recipe a try. You won't regret it.
Homemade Banana Pudding Recipe
2014-11-27 00:02:46
Serves 8
A delicious homemade banana pudding with vanilla wafers. What you remember your mom making when you were a child.
Nutrition Facts
Amount Per Serving
* Percent Daily Values are based on a 2,000 calorie diet. Your Daily Values may be higher or lower depending on your calorie needs.
Ingredients
60-70 vanilla wafers
1 cup granulated sugar
3 tbsp cornstarch
2 cans (12 oz each) evaporated milk
2 eggs slightly beaten
3 tbsp butter cut into pieces
1 1/2 tsp vanilla extract
5 bananas cut into 1/4 inch slices
1 (8 oz) container frozen whipped topping thawed
Instructions
1. Line bottom and sides of 2 1/2 quart glass bowl with about 40 wafers. Combine sugar and cornstarch in medium saucepan.
2. Gradually stir in milk to dissolve cornstarch. Whisk in eggs. Add butter. Cook over medium heat, stirring constantly, until the mixture begins to thicken.
3. Reduce heat to low, bring to a simmer and cook 1 minute, stirring constantly. Remove from heat.
4. Stir in vanilla, let cool slightly. Pour half of pudding over wafers. Top with half of bananas.
5. Layer remaining vanilla wafers over bananas. Combine remaining pudding and bananas, spoon over wafers.
6. Refrigerate at least 4 hours. Top with hipped topping.
Easy Cooking Recipes http://www.eeasycookingrecipes.com/
More Than One Way to Peel a Grape
Watch Homemade Banana Pudding Recipe Being Made By A Pro
Chicken Pot Pie It's Not Too Difficult
You know it is that time of year that we all want to make changes for the better in our diets. All of a sudden a need for healthy eating recipes comes to the foreground. Well I think one of the reasons so many fail is that they set themselves up for failure by trying to eat food that doesn't taste good or is so far removed from anything they are used to that they just can't take it.
Well I say, foods that you love can be revised to be lower in fat and calories, delicious and fun and something that you will enjoy eating. Why make it so drastic? Keep it simple. Healthy Eating does not have to be a drudgery or punishment.
This is a recipe from Food Network by Elle Krieger. You know, she is the nutritionist chef on food channel. Well you just won't believe how simple and delicious this chicken pot pie recipe is. Enjoy!
I am crazy about Strawberry Lemonade. And I love to make it homemade. I have a great Strawberry lemonade recipe that is a go to recipe for summer at our home. But it is just your basic recipe. What I really like to do is spice it up. And sometimes I really do like to try some different spices.
While I was web surfing, I came across this terrific Strawberry lemonade recipe that actually adds the spice, basil. I knew I would love it. And the addition of vodka may be right up your alley. But you could also think about rum or a number of other liquors that would taste great too. Give this a try. Follow the link for the recipe.
How many of you like lemonade? Do you make your own or buy the powdered kind from the store. I for one prefer to make my own at home. Just this past week my parents brought me about 10 pounds of fresh lemons from a friends tree in Tucson, AZ. They were HUGE! I mean giant, huge lemons. And you know what they say… when life hands you lemons… you should make strawberry basil lemonade (alcohol optional!)

It has seriously been 80 degrees this week in LA. Its perfect spring/summer weather for me. I am fairly certain that I have improved my tan by at least 2 shades this week just from my runs and driving with the windows down. It's pretty amazing to say the least. I guess this is why I pay an obscene amount of money for rent. But whatever. It is what it is! I don't know about you, but when I think of sitting outside and just the summer time in general, I immediately start thinking about refreshing cocktails or other drinks. I just automatically think of sitting with my girlfriends on the beach in Mexico with cocktails. They key to a refreshing spring/summer time cocktail is making sure it isn't crazy strong because you want to be able to have a few, and you want it to be refreshing and light!
read the rest of this article and get the recipe here.
Gotta Get This Mug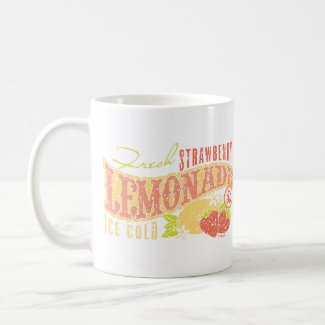 Strawberry Lemonade Mug by MendiSue on Zazzle
My Friend Correen has managed to make a wonderful Chunky tomato Soup recipe. It is extra fun because she took a well known and well loved soup recipe from a restaurant and successfully downsized the recipe to a more manageable home portions. And it is delicious!! Tomato Soup is my Favorite Soup and having such a delicious easy cooking recipe right on hand is the best!
Here is what she had to say:
While vacationing in Sunriver, Oregon my mom had lunch at The Village Bar and Grill with her friends. The tomato soup that mom had with her sandwich was so delicious that she asked the waitress for the recipe. Evidently the restaurant had this request a number of times because they had the recipe printed out and ready to hand out to customers. Mom was surprised by the simple ingredients in this soup, she thought for sure it was going to be more involved. Knowing that I love tomato soup, my mom has passed on the recipe to me
Get the rest of this article and chunky tomato soup recipe here.
I have loved black eyed peas since I was young. My mother made them all the time. Sometimes with cut onion slices and cornbread like she used to serve red beans also known as Pinto beans.
And is there any more healthy food on the planet? These days they bother you about fiber so much it almost seems you just can't get enough. Well beans are going to solve that problem for you. Excellent source of fiber.
But really back to the taste, I am very happy with black eyed peas in particular. I found a great recipe for Hoppin' John, which as you will see is just some fancied up black eyed peas. Have a look and of course this is an easy cooking recipe as well.
This was the year I fell in love with black eyed peas. (The food. Already loved the band.) They have a wonderful flavor, almost smoky, even without bacon or ham. Earlier this last summer we put them in a salad with feta and spinach. So so good.

The dish that black eyed peas are most famous for is Hoppin' John. No idea where the name came from. And depending on where you are from you might not even call it that, but simply black eyed peas and rice. Hoppin' John is one of those classic Southern dishes that come with as many versions, stories and flavors as there are cooks. At its core, however, Hoppin' John is rice, black-eyed peas (or field peas), smoked pork, and onions. Black eyed peas are supposed to bring you luck if you eat them on New Year's Day, and it is traditionally eaten with collard greens.

So, for this new year, I offer you a hot plate of Hoppin' John. May we all enjoy its good luck. Happy New Year!
I love to bake bread, I really enjoy using my bread machine. But I also like to do it the way my Mom taught me. They didn't have bread machine baking back in the day, but they sure had the best homemade bread ever.
And don't be afraid of yeast. It is soooo not difficult. You hear all kinds of scary stories. I am not sure why people try to scare would be bakers. But trust me, it is simple.
I am always on the hunt for new recipes and delicious bread recipes is at the top of my list. I also happen to be a fan of soft pretzels. I really love them, but they are a bit more difficult to make. So I usually buy them.
Well I have found this very neat recipe that is sort of a combination of the two. Yeast rolls and pretzels and it is so good. You are going to love them and it is an easy cooking recipe to boot.
Here is the link to the recipe so you can see the step by step how to, with pictures for each step. Soft Garlic Knots
Here is a video that very simply shows how easy it is to activate your yeast. So stop fearing yeast and get to baking. Yummmm!!
There is no way you can not love pancakes. I have eaten pancakes since I was a toddler. I mean every kind of pancake you can think of. Peanut butter and banana pancakes, peanut butter and jelly pancakes. sweet pancakes, bread pancakes. It really doesn't matter, they are all so good.
My Mom made really delicious pancakes. I remember them in my school years. Yes, I had the type of Mom that would make breakfast for us everyday before the school bus arrived. We loved it.
Anyway I have written an article about it and it includes the most fabulous recipe and easy cooking recipe around. Just read it and follow the steps. No problem.
Here is an excerpt:
Mom Made the best pancakes for Us Back in the 50's and 60's, when Food was Real.
You know how they say breakfast is the most important meal of the day? Well turns out they were right. But why? You may ask.
Well I'll tell you. You just have to know how to make it. I am going to share with you the very best pancake recipe ever. No matter where you come from or how many pancakes you've eaten. This recipe is from my mother, from back in the 1950's. You can not beat it. So just take notes and give this a try.
You'll need three large eggs, separated into whites and yolks.
You'll need either buttermilk, whole milk or half and half, I prefer half and half. Don't use skim milk, the consistency will change and you'll just have thin runny pancakes. Yuk!

You'll need a whisk and an electric mixer.

Okay, ready here we go.

Put into a large bowl:

1 1/2 cups all purpose flour

1 tsp baking powder

1 tsp of baking soda

3 tablespoons sugar

½ tsp salt

Whisk these dry ingredients together until they are well incorporated.

In another mixing bowl:

beat the 3 egg yolks with a whisk to break them up

add 1 2/3 cup of the milk of your choice (yes, even the skim milk if you insist)

4 tablespoon of softened butter

½ tsp vanilla

Mean while using a stand or hand mixer, beat the egg whites until stiff peaks.

Now mix the wet ingredients with the dry ingredients, except the egg whites. PLEASE, only mix these together until the dry ingredients are wet, THERE WILL BE PLENTY OF LUMPS. Lumps are good!

Now FOLD in the egg whites. This is important. You want the egg whites to maintain their volume and air. This is what is going to make your pancakes the best pancakes ever. If you smoosh them down to just wet egg whites you've killed them. Shame on you!! FOLD IN THE EGG WHITES.

Now cook them on a griddle or large enough pan that you can flip them. If you use a nonstick skillet you can butter it a little to give you that crispy edge on the outside. Watch for the bubbles on the batter as it cooks, that's the sign it is ready to flip. And please only flip them once. You can peak under them with the spatula if you are uncertain. You are looking for golden brown.

I love to serve maple butter syrup over them. Or you can use fruit syrups or just pick them up and eat them. They are to die for. You will love them. Enjoy!
I am crazy about Carmel Corn. Every time my husband and I go to Frankenmuth, a small German town in this great state of Michigan, we buy Carmel Corn. There is a little shop up there that has specialty popcorns. I mean they have everything! Cinnamon corn. Peppermint corn. Chipotle corn. Bacon corn. You get my drift… everything you can think of it.
But the big thing for me is the Caramel corn. For me it is a snack, a treat, even an appetizer for friends when they are coming for dinner and they have some time to wait, why not give them some carmel  corn around for their enjoyment?
I have written an article at Factoidz about a great recipe for Carmel corn. It could be an easy appetizer recipe or simply a snack that you might like to try. No reason to drive to Frankenmuth when you can make it in your own kitchen.  Here is the article, I hope you enjoy it.
Do you like to go to the movies? I do. And what is the number one thing most people buy when they go to the movies? That's right! Popcorn! I love popcorn. In all kinds of forms and styles. But my favorite of all is Caramel corn. It is simply the best. A combination of sweet and salty. How can yo beat that. And when you add peanuts you have a snack fit for a king, or maybe I should have said Queen.

There is a shop near where I live that sells so many kinds of popcorn that you absolutely can not decide what kind to get when you go in there. Most people have to buy some of several. They even sell little taste packages for those of us that can't decide. It is very fun. From:Home Made Caramel Corn Recipe – Why Wait Make Your Own
I ask you…Who of us doesn't love cookies? I find them to be comforting and entertaining. A great snack for company or card playing, and almost always an easy cooking recipe. And a great cookie dough recipe is the best kind of cookie out there. Something fun in the kitchen to grab when you need a snack. They can be healthy or crazy, I just love cookies. And you don't have to spend hours slaving away in the kitchen to be able to enjoy the fruits of your labor.
I have tons of ideas for cookies, in fact I am eating a cookie as I type this. My mom used to just walk into the kitchen a make up a batch of cookies. Right out of her head, no recipe! She was just that gifted in the kitchen. I still need a recipe for baking. But then I usually put my own spin on it. I love to doctor up whatever recipe I am working with and make it more of a "Susan recipe". I love cooking and I love cookies.
A friend of mine, Beverly Mucha, who is the Winona Cooking examiner over at Examiner.com, is always sharing remarkable and always free recipes with us all. And this week she has a really great one it also fits into the category of easy cooking recipes and it is a cookie recipe! They are called Thumbprint Cookies and they are made from scratch, and talk about a great cookie dough recipe, this is it. And they are the old fashioned kind that has the chocolate kiss in the center. Can you beat that? I hope you'll enjoy this recipe as much as I do. And let Beverly know you visited.